Since I was having no luck finding a set of the used clamshells here in Delaware, I went to the interwebs and started searching for something that may work. I found these on the Gbodyparts.com site. They were delivered today and fit my 2292 mounts great. Just wanted to share in case somebody else out there is having a hard time finding the clamshells.
1978-1992 GM F-Body & G-Body Heavy Duty Engine Mounts
$39.95
Application:
1978-1988 Chevrolet Monte Carlo, Malibu, El Camino (V8 Only)
1982-1992 Chevrolet Camaro (V8 Only)
1982-1992 Pontiac Firebird (V8 Only)
*Designed for Chevrolet SBC/BBC Engines. May not work on Pontiac & Oldsmobile engines*
The P/N 0058 heavy duty engine mounts for GM G and F-body cars takes the place of the heavy factory clamshell mount. It places the Small Block Chevy in exact factory location and uses our popular P/N 0051 solid motor mounts or can be used with the factory rubber mounts. Tough 3/16" laser cut brackets and Grade 8 hardware can handle as much horsepower as you can throw at them. When used with P/N 0051, solid engine mounts improve responsiveness and help prevent engine movement, which can help in tight packaging situations (large header primaries, turbos, etc). Solid engine mounts work best in racing applications and may contribute to increased Noise, Vibration and Harshness. Available in gloss black powder coat. These engine mounts are proudly used on UMI's G-Body test car, 1979 Monte Carlo "Green Machine". 100% manufactured, tested and raced out of Philipsburg, PA – USA. Note: Heavy duty engine mounts may not work with Oldsmobile or Pontiac engines. 
3/16" thick pickled mild steel plate
CNC laser cut for exact tolerances
Grade 8 mounting hardware included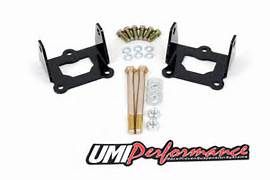 Gloss black powder coat finish